In 2012 I was asked by Justin Legg & Rachel LeBlanc to create a ritual experience for people attending their event Bad For Jazz: A Know Happening for Winter Solstice. Bad For Jazz was an amazing musical series these two people were presenting on a regular basis showcasing the multi fold avant-garde musicians we are blessed with in Seattle and surrounding areas. This was a two night concert, the first night featuring noise and experimental musicians, the second featuring psych-rock acts. My first concern was, how I could respectfully include the archetypes I felt should be represented in this space without compromising my beliefs? My second concern was, how do I include these elements in a manner that was not disruptive to the overall flow of the event?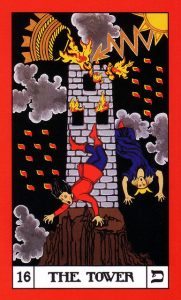 At the same time, I was reading Tarot for the public on a regular basis, and The Tower card kept coming up. Like every reading, whether I knew the person or not. It was like a movie, and I had never had anything like it happen before. The first few readings, I thought it was funny, but as it stretched out, and then I switched decks and it was still happening… it was actually quite unsettling.
The Tower card is one of the more notorious cards in the deck. Most people are not excited to see it. It usually depicts some type of calamity; often a pair of people falling out of a tower that has been struck by lightnight and is on fire. It represents, for some, the chaos of existence. Just when you think you've got it all figured out, here comes life, screwing it all up.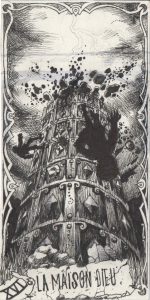 In some decks it is call "Le Maison Dieu", or, The House of God. Seemingly, these ideas would be at odds. The House of God would be a Church, right? A peaceful respite from the chaos. I began to think that all these times I'd pulled The Tower for my clients, it was actually for me, trying to tell me something. Were we going to have an earthquake? Was Seattle going to be visited by a terrorist attack?
I was at a loss as to how to continue to casually explain away this menacing card both to my clients and myself.
Meanwhile, I began working on what I would be bringing to Bad For Jazz, having finally decided that something visual that people could interact with as they saw fit would be the right way to answer my concerns. I was bringing elements together, but I didn't really understand what I was doing.
Then, my friend Greg casually mentioned to me that sometimes when we get the The Tower, we are not being directed to relate to the people, but instead to focus in the Lightning strike. Sometimes we are the Shocking Revelation, and we are in turn meant to bring this new vision to others. It might disrupt things, but we must press forth.
I was stunned.
I turned back to my art, and realized I was making four towers. One for each direction, filled with occult correlations for the directions and elements from systems all over the world. I sat on the floor and cried. I had never seen myself as a 'real' visual artist, and one of the big struggles I was facing at the time was in 'choosing' what I was going to pursue in life; art? music? spirituality? teaching? And what did all that mean in how I connected to my community? Without knowing it (consciously), I had blended these many school into one experience. And for me, the answer rang out like a bell: you can be all these things, in turn, at the same time, whatever. Just Be. And Do.
And so, The Altars were born. They hang from the ceiling in my house currently, a constant reminder that we all have a Message to bring forth, and it will destroy the Past and Birth the Future.