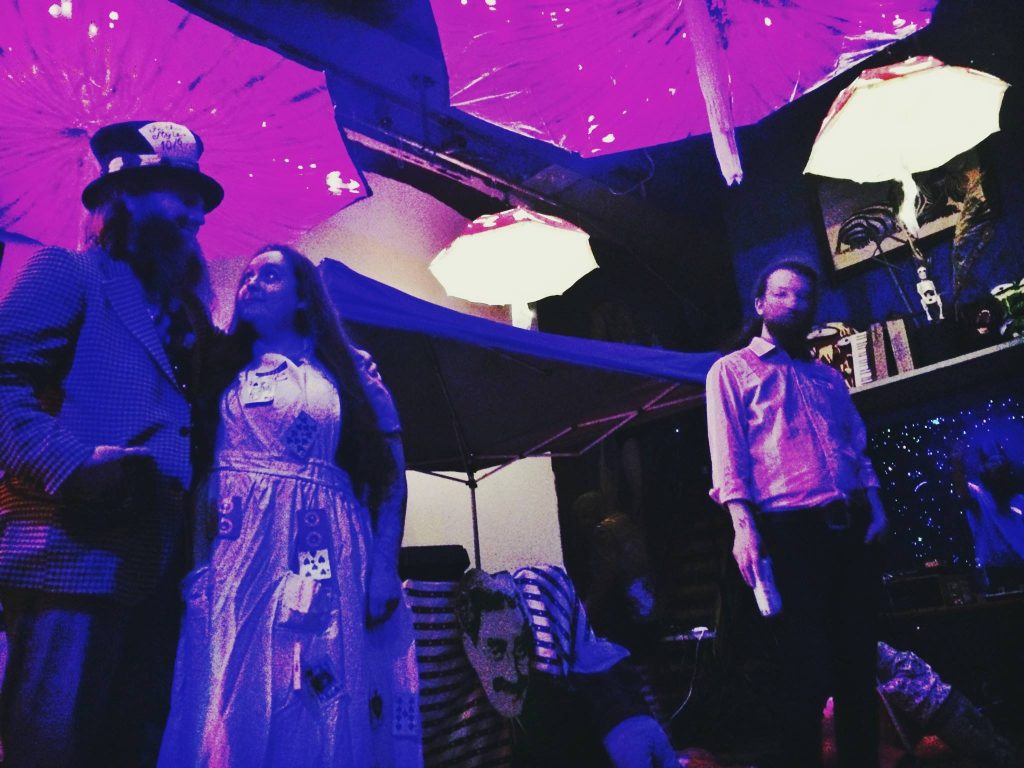 What an amazing weekend! I hope everyone had a great time. Happy Samhain, happy Dias de la Muerto, happy All Saints Day.
I got to be a part of something pretty special this weekend, and it took a village of people to manifest and birth it, so cheers to the following Psychopomps & Soul Doulas:
Rachel LeBlanc for instigating one hell of a shitshow.
OKA Amnesia for being one of THE BEST collaborators I've ever worked with. It was an honor to see this vision come to life with you.
Buddy Allgeyer and Janie Claws for tireless efforts, up-til-4am-art-jams, and indomitable spirits. You guys kept me going when I faltered. I love you!!
Wild Bill, Funky Photos, Mitchell Bell and Stan Reed for BRINGING THE NOISE (Hallelujah)!
Diogenes for fucking killing it on the dance jams.
Justin Minich for turning my forest walk sound & vision into a reality (J-Town basically ran that front room y'all).
Ryan Jack Allred for helping me bring the pop-culture altar out of my dreams and into my life, (and many other lives) – and doing the dishes.
Marty Angus, Shawnee Guyer, and the Marysville crew for totally blowing my minds with the NAME TAGS!! If you loved your name tag (who Googled theirs??), thank these brilliant artists.
Kelly Fleek, the Great Fabric Installation Artist in The North, for a key artistic suggestion I would have never thought of. Such a simple idea, that had such a major impact to my process. Minds were blown.
Kaz for masterfully running sound, and generally being awesome all damn day.
Karla Fuller Palmer for documenting every square inch of the madness. I can't wait for people to see her work. Stunning.
Kigan, Brian, Randall Skrášek, and everyone else who runs and lives at The Jo, thank you so much for your work caretaking such an intense and powerful space.
Olivia Mendez & Malaki Stahl for taking on the larger responsibilities of The Jo.
I know I'm forgetting people and I'm sorry and I love you!
If anyone took pictures, please post them here.
Finally, to all the Goddesses and Gods of Death and Transition, Psychopomps, and Spirit Guides thank you for your assistance in the next 6 weeks or so. We are all descending the staircase, it's good to know we can reach out and a hand will be there.
Here is the updated folder with my process for making the mushrooms and some other the other art, as well as photos from OKA Amnesia, Rachel LeBlanc, and killer photos of the event from Karla Fuller Palmer.